The E-P1, the new micro FourThirds camera from Olympus, is now official. This 12Mpix camera with is packed in a quite elegant retro-style body, with a 14-42mm kit lens and a nice 3" LCD. It records 720/30p movies, has various art filters (soft focus, pop, …), and ISO speeds up to 6400 thanks to its TruePic V image processor. For more information, official press statement: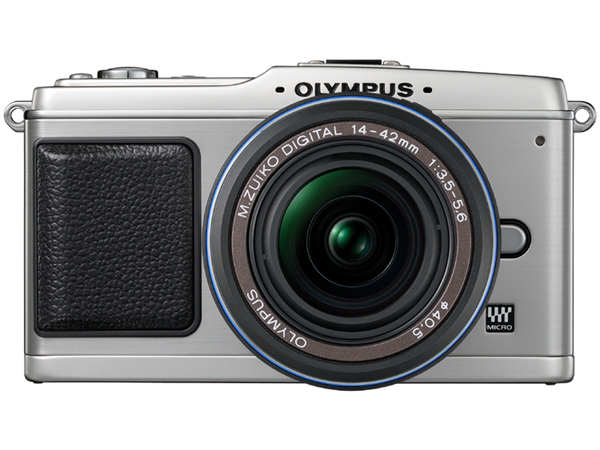 Hamburg, 16 June 2009 – When Olympus launched the legendary Pen series of cameras in 1959, this bold and revolutionary achievement rewrote the history of photography. Designed by renowned style guru Yoshihisa Maitani, the Pen represented the perfect marriage of simplicity, style and performance. Five decades later the Olympus passion for innovation is still setting the pace.
With the release of the E-P1, the digital era's next generation Olympus Pen has arrived: mirrors are no longer a necessary component for digital cameras with interchangeable lenses. The first groundbreaking Olympus Micro Four Thirds model impresses with its incredibly small size, retro style, and ease of use – without giving up any of the benefits of D-SLR quality. 

This new ultra-compact hybrid device can even record HD quality movies with depth of field and Art Filter effects familiar from still photography. Naturally, the E-P1 packs all the advantages of Olympus imaging technology e.g. image stabilisation, a dust reduction system, and bright interchangeable lenses. It will be available for purchase in July 2009.
Technology and design in perfect harmony Combining modern technology with the timeless style of the classic Olympus Pen series, the removal of the mirror box allows the Olympus Pen E-P1 to be reduced to a remarkably compact size. Such mirror-less construction is also the foundation for a stunning new design.
A stylish metal finish and the optional FL-14 flash give the camera a retro-look reminiscent of the classic Olympus Pen F. Through its compactness and usability this legendary camera became one of the most popular and revolutionary products in the history of photography.
Not just a pretty face: D-SLR quality in compact form To match its high-end look, the E-P1 has been fitted with the latest innovative Olympus technologies to deliver D-SLR quality images. In addition to in-camera image stabilisation, it is accompanied by the first Olympus interchangeable lenses specially designed for the new Micro Four Thirds format: the M. ZUIKO DIGITAL 17mm 1:2.8 Pancake (34mm*) and M. ZUIKO DIGITAL ED 14-42mm 1:3.5-5.6 (28-84mm*) lenses.
To guarantee a wide range of shooting styles, the new model is compatible with all Micro Four Thirds lenses and, via an adapter, the full range of existing Four Thirds lenses. Adapters are also available for OM lenses and those made by other manufacturers. For unbeatable precision, a 12.3 Megapixel Live MOS sensor and the Olympus Pen E-P1's new TruePic V image processor ensure all your precious memories are saved as crisp and clear images or movies.
The new processing engine guarantees ultra-high processing speeds as well as professional image quality at up to an incredible ISO 6400. It also enables the application of Art Filters to both movies and still images.
New modes for unlimited self-expression The E-P1 boasts a variety of creative E-System features allowing photographers to explore new artistic possibilities. Inspired by the semi-professional E-30, a choice of six Art Filters lends images a new flair. The Pop Art filter, for example, infuses a picture with colour in order to create a more intense, joyful feel. Further fantastic filters include Pin Hole, Soft Focus, Pale & Light Colour, Light Tone and Grainy Film.
And so you're never left wondering what your party would have looked like through a kaleidoscope, they can also be applied right in the camera after a picture has been taken. Other effects can be created using the Multi Exposure mode, which allows several RAW images to be superimposed in real-time. Multiple Exposure masterpieces can then be created on the fly in shooting mode, or later in editing mode. Creativity is further supported with a choice of four aspect ratios. What's more, the E-P1 truly breaks new ground with the option of video recordings that were previously impossible.
Not only does the cutting-edge video function allow the application of Art Filters, but it also includes the ability to vary depth of field, angle of view, and autofocus during recording. And of course, this can be done with all lenses. It records up to an incredible 5 minutes of high-resolution HD (1280x720p) at 30fps in one single shot. The result? You'll never miss a crucial moment – from the highlight of the party to that flashed smile on the catwalk. Movies can be recorded and played back in AVI format, at both standard 4:3 or wide screen 16:9 aspect ratios.
To take the guesswork out of achieving sharp focus, shifting electronic image stabilisation (Digital IS) ensures perfect pictures every time. Convenient transfer and viewing on modern displays is no problem since the Olympus Pen E-P1 is HDMI compatible. And since some memories look particularly good framed on the wall, high-resolution still images can be shot at the touch of a button while recording movies.
The E-P1's high quality stereo recording ability will ensure your movies sound crisp and clear, whether you want to film your own music video or send a heartfelt message to a friend. It benefits from Olympus' latest audio technologies, including high quality PCM recording.
Effortless handling and full control The newly developed Live Control interface ensures effortless operation: it is incredibly easy to use and the effects of selected functions can be viewed immediately on the 7.6cm/3.0" HyperCrystal LCD. In addition to easy focusing for sharp and crisp shots, an intelligent i-Auto option also allows the camera to automatically adjust to six common scene modes such as portrait, landscape and night.
What's more, subjects can be sure they will always look their best with e-Portrait – a practical option that smoothes away wrinkles and eliminates imperfections and blemishes. This way everyone can look like a top model, especially when they appear on TV via the practical HDMI output. SD card compatibility eliminates concerns about storage by providing ample space for recorded images and movies as well as convenient file storage and transfer.
A must have for style hounds and those seeking unbeatable performance without the weight and clumsiness of traditional D-SLRs, the Olympus Pen E-P1 is available in two stylish options: silver or white. The new model and its two accompanying Micro Four Thirds lenses will hit stores in July 2009.
also read :
Tags:
digital camera